Zo'n 600.000 woningen worden verwarmd met een blokverwarming. Door het verplicht verdwijnen van de 1-op-1 ketelvervangingen vanaf 2026, is het bij de verduurzaming van blokverwarmingen in woon- en zorgcomplexen vaak de vraag: 'Kunnen we niet in een keer van het aardgas af met warmtepompen?' Jelle Fokkema (Energy Bridge) geeft je in deze Expertpost het antwoord.
Laten we beginnen met de constatering dat er niet één ideale oplossing is om een blokverwarming te verduurzamen. Elk gebouw is uniek door het ontwerp, het gebruik en de ligging. Ook zijn er vaak in de loop der jaren allerlei aanpassingen doorgevoerd, zoals dubbelglas of dakisolatie. Bij de overweging om geheel of gedeeltelijk van het aardgas te gaan, geldt altijd een aantal vaste uitgangspunten. Daarmee kunnen we een groot deel van de oplossingen standaardiseren, terwijl er een specifieke oplossing nodig is voor een kleiner deel van de gebouwen. Zo maken we het voor woningcorporaties, VvE's en zorginstellingen makkelijk om bij een vervangingsmoment te verduurzamen.
Beperkte netcapaciteit
Een essentieel uitgangspunt is de benodigde en beschikbare netcapaciteit. Op dit moment is het lang niet altijd mogelijk om voldoende netcapaciteit te krijgen. Hierdoor kan er vaak niet voldoende warmtepompvermogen worden opgesteld om een woongebouw in één keer volledig aardgasvrij te maken. Vaak is een hybride systeem wel mogelijk, waarmee gemiddeld toch ongeveer tachtig procent aardgas kan worden bespaard.
Maximale inzet warmtepompen
De warmtevraag van een gebouw is voornamelijk afhankelijk van de buitentemperatuur. Zeer lage buitentemperaturen (lager dan -5 °C), komen gemiddeld in 0,7% van de tijd voor. Het totale opgestelde vermogen dat nodig is om een gebouw bij deze zeer lage buitentemperaturen warm te houden, zal daarom voor een groot deel van het jaar uitstaan.
In de onderstaande grafiek is een voorbeeld weergegeven voor een VvE-complex met 35 woningen en 5 warmtepompen in serie: als het vermogen van de eerste pomp tekortschiet, start de volgende. In de linker grafiek zie je van de vijf identieke hogetemperatuur lucht-waterwarmtepompen het cumulatieve opgewekte vermogen bij verschillende buitentemperaturen. Rechts staat de weergave van het jaarlijkse opgewerkte warmte bij die temperaturen.
Duidelijk is dat bijvoorbeeld bij 0 graden buitentemperatuur de eerste, tweede en deels derde warmtepomp nodig zijn om voldoende warmte te kunnen leveren. De vijfde warmtepomp is toegevoegd omdat vier warmtepompen net niet het benodigde vermogen kunnen leveren bij een buitentemperatuur van -10 graden. In een werkelijke situatie wordt deze niet opgesteld, maar komt de benodigde warmte waarschijnlijk uit de buffercapaciteit.
Met een relatief klein deel van het totale opgestelde vermogen (de eerste twee warmtepompen) kan dus al een heel groot aandeel van de totale benodigde warmte worden geleverd. Dit betekent dat deze warmtepompen veel draaiuren zullen maken en daardoor optimaal worden ingezet. Je verdient de investering voor deze warmtepompen daardoor snel terug.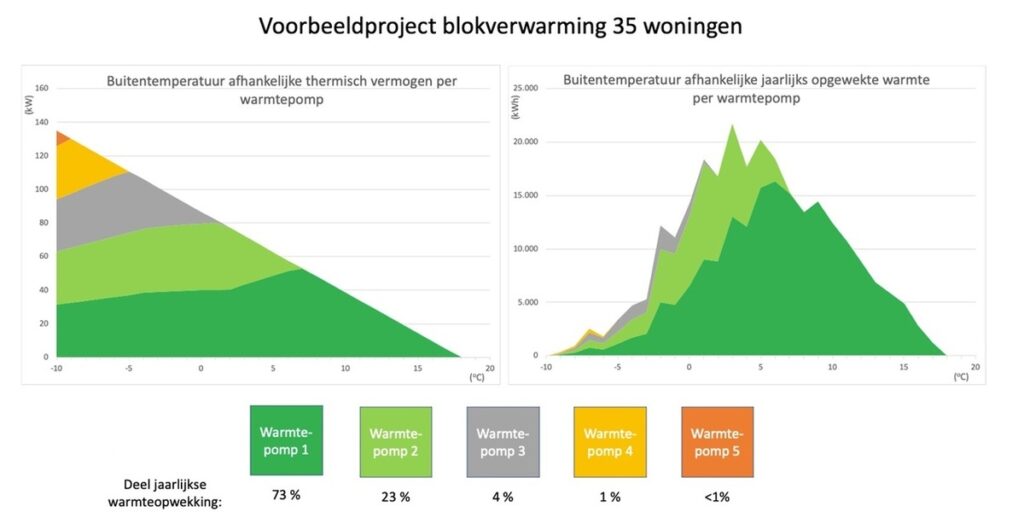 Hybride
Het rendement van lucht-waterwarmtepompen neemt af bij lagere buitentemperaturen. Bij een hybride installatie wordt in dat geval bijgestookt met gas, zodat er een kleinere en daardoor goedkopere warmtepompinstallatie kan worden gerealiseerd. De gasgestookte ketels nemen het dus over op het moment dat warmtepompen het 'slechtste' draaien en veel elektriciteit nodig hebben. Het verschil in CO2-uitstoot tussen een all-electric warmtepompinstallatie en een hybride installatie is hierdoor zeer beperkt.
100% aardgasvrij
Op termijn wil je met het complex natuurlijk van het aardgas af. Extra isolatie biedt wellicht de mogelijkheid om 100% aardgasvrij te worden. Ook kun je wachten tot het volgende vervangingsmoment om dan nieuwe technieken te implementeren met een hogere opbrengst of beter rendement. Met de snelheid van de huidige innovatieve ontwikkelingen voorzien wij binnen vijftien jaar nieuwe mogelijkheden om de laatste tien tot twintig procent aardgasgebruik op te vangen. Denk hierbij aan nieuwe warmtepompen of biogas. Ook wordt er op termijn in de buurt misschien een duurzaam warmtenet aangelegd.
Waar voor je geld
Afrondend kunnen we concluderen dat je met een hybride installatie bij lage buitentemperaturen kunt bijstoken met aardgas, zodat er een kleinere en effectieve warmtepompinstallatie kan worden gerealiseerd. Daarmee zet je al een grote stap naar ongeveer tachtig procent aardgasvrij. Dat is op dit moment de meest realistische en rendabele oplossing om blokverwarmingen te vervangen en verduurzamen. Voor 600.000 woningen op een blokverwarming kan hiermee direct een grootschalige impact worden gemaakt.
Tekst en beeld: Jelle Fokkema, adviseur Duurzame Warmte bij Energy Bridge